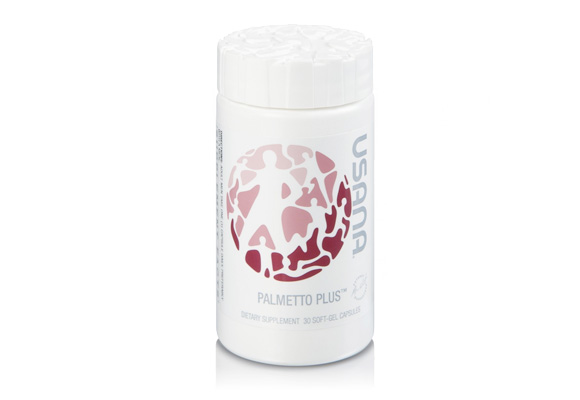 USANA Supplement for Prostate Health for men.
USANA Palmetto Plus™ supplement is a safe, effective, science based, pharmaceutical quality, all natural supplement for men that supports long term prostate health.
Capsules / Bottle: 30
Directions: 
Take one (1) capsule daily, preferably with a meal. Take a few hours before or after other medications.
USANA Palmetto Plus™ in USA | USANA  Supplement for men
USANA Supplement in USA for Prostate Health.
Health Basics:
Designed for men concerned with maintaining sound prostate health

Contains a unique blend of saw palmetto, lycopene, and soy isoflavones from standardized botanical extracts
Did You Know?
Saw palmetto extract is clinically shown to be effective in supporting prostate health.
USANA Palmetto Plus™ Supplement difference:
Effective

Safe

Science-based

Pharmaceutical Quality
USANA Palmetto Plus™ Supplement
Are bathroom breaks breaking your plans? Then maybe it's time to help out your prostate. Saw-palmetto extract is clinically shown to effectively support prostate health. Along with saw palmetto, USANA Palmetto Plus supplement for men prostate is formulated with another botanical, lycopene—a helpful nutrient found in tomatoes. So if you are looking for a daily supplement designed to help support prostate health, USANA Palmetto Plus supplement may be the natural solution you need.
Each capsule of USANA Palmetto Plus supplement contains:
Medicinal Ingredients:
320 mg Saw palmetto extract (standardized to a minimum of 85% free fatty acids)

71 mg Tomato extract  (standardized to contain 5 mg lycopene)

62.5 mg Soybean Powder (Equivalent 25 mg Soy Isoflavones, 15.5 mg AIE*)
*AGLYCONE ISOFLAVONE EQUIVALENTS
Other Ingredients:
Gelatin, glycerin, soybean oil. Beeswax, purified water, soy lecithin, natural caramel colour, titanium dioxide.
Keep out of reach of children. Consult your physician prior to use: to exclude a diagnosis of prostate cancer, if you are taking thyroid hormone replacement therapy, OR if you have a liver disorder or develop liver-related symptoms (e.g., abdominal pain, jaundice, dark urine). Consult your physician: if you are taking a prescription drug or have a medical condition, if symptoms persist after 6 months or worsen, or if you experience gastrointestinal discomfort. Not for use with women who are nursing or pregnant.
Laboratory tested, quality guaranteed. Meets USP Specifications for potency, uniformity, and disintegration, where applicable.
There is a safety seal under the cap. Do not use if the safety seal is broken or missing.
These statements have not been evaluated by the Food and Drug Administration. This product is not intended to diagnose, treat, cure, or prevent any disease.
USANA Vitamins and Supplements are made in USA.
USANA HEALTH SCIENCES, INC. SALT LAKE CITY, UTAH 84120
USANA Vitamins: Store below 23˚ C.