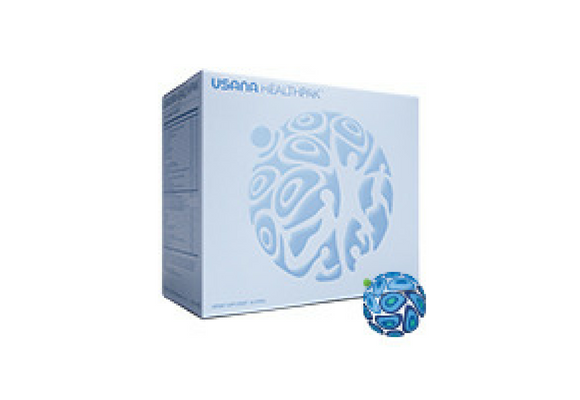 USANA HealthPak™ | USANA Vitamins for adults in USA
Save up to 10% ($130.95) on retail Price as a Preferred Customer on all USANA Vitamins Supplements for adults.
A selection of USANA vitamins, including the USANA CellSentials™  pre-packed in AM and PM pouches.
One box of USANA HealthPak™ contains 56 wrapped packets for four weeks of the following USANA Nutritionals:
USANA HealthPak ™ is Effective, Safe, Science-based, Pharmaceutical Quality USANA Vitamins for adults.
Tablets / Box: 336
Directions: 
Take one (1) packet in the morning and one (1) packet in the evening, preferably with meals.
USANA HealthPak | USANA Vitamins for adults in USA
USANA HealthPak is a premium selection of core supplements, pre-packed in convenient AM and PM pouches.
USANA Vitamins products provide a comprehensive range of vitamins, minerals, and antioxidants for daily nutritional support for each adult. Includes:
Top-rated USANA CellSentials™ (USANA Vita-Antioxidant and USANA Core Minerals)
USANA MagneCal D (one HealthPak exclusive tablet)
USANA's unique CellSentials Booster™ for added antioxidant protection (one HealthPak exclusive tablet)
USANA HealthPak Vitamins for adults in USA
Health Benefits
USANA CellSentials cellular nutrition system supplies optimal amounts of vitamins, minerals, phytonutrients, and more*
Contains proprietary, patent InCelligence Complex in Vita-Antioxidant, which goes beyond delivering optimal nourishment to also activate cells' endogenous antioxidant protection and mitochondrial renewal support*
Exclusive USANA CellSentials Booster formulated with four powerful nutrients shown to influence a broad network of cell-signaling pathways: alpha-lipoic acid, USANA's patented Olivol® olive fruit extract, quercetin, and Pterocarpus marsupium extract containing pterostilbene*
Supplies essential nutrients magnesium, calcium, and vitamin D through the exclusive USANA MagneCal D™ supplement
The USANA Difference:
USANA® HealthPak makes it easy to get the micronutrients you need every day.
A 28-day supply of core supplements in convenient daily packets, HealthPak delivers advanced nutrition when and where you want it. HealthPak includes the USANA CellSentials™ plus the exclusive MagneCal D and USANA CellSentials Booster, which is formulated entirely using patent-pending USANA InCelligence Technology. This combination provides advanced nourishment for your cells, and the innovative formulas help unlock the innate intelligence of your cells to protect and renew good health.*
Nutritional supplements are most effective when they deliver important nutrients and antioxidant protection all day long, every day.
USANA HealthPak is designed to provide a balance of vitamins, minerals, and antioxidants to support the entire body health of adults.
With USANA HealthPak no counting, no separating, no excuses when it's time for your daily vitamins.
USANA makes it convenient to stay on schedule with pre-packed daily AM and PM pouches.
Using this product is an excellent start for adults interested in building a strong foundation of health through daily nutrition.*
Unlike other packs, USANA HealthPak contains the highest rated nutritional supplements in North America, so you know you're getting the best. Stick a packet in your pocket or purse so wherever you go, your advanced nutrition can go with you.*
USANA HealthPak is vitamins supplement for adults only. Keep out of reach of children. Consult your physician if you are taking a prescription drug, or have a medical condition. Consult your physician prior to use if you have: been diagnosed with estrogen-dependent cancer, cancer, an iron deficiency, gallstones or a bile duct obstruction, stomach ulcers or excess stomach acid, cystinuria, a liver disorder or develop symptoms of liver trouble (such as abdominal pain, dark urine or jaundice). Consult your physician prior to use if you are taking: blood thinners, blood pressure medication, nitroglycerin, or antibiotics. Hypersensitivity, e.g. allergy, may occur, in which case discontinue use. Do not use if you are allergic to plants of the Asteraceae/ Compositae/Daisy family. Do not take if you are pregnant or nursing. Some people may experience diarrhea. People sensitive to nicotinic acid may experience flushing of the skin that is generally mild and transient. Consult a physician for use beyond 6 weeks.
*These statements have not been evaluated by the Food and Drug Administration. This product is not intended to diagnose, treat, cure, or prevent any disease.
USANA HealthPak Vitamins for adults are made in USA.
USANA HEALTH SCIENCES, INC. SALT LAKE CITY, UTAH 84120
USANA Vitamins: Store below 23˚ C.