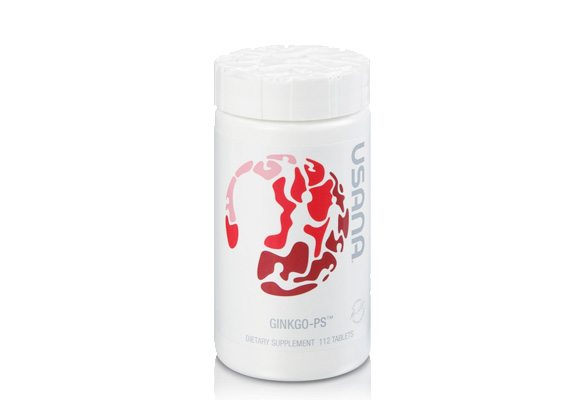 Save up to 10% ($34.95) on retail Price as a Preferred Customer on USANA Supplement for memory
Unique Ginkgo biloba formula supplement supporting acute memory function and cognition that helps you stay on top of your game.
USANA Ginkgo-PS™ supplement helps prevent age-related memory's decline and brain functions.
USANA Ginkgo-PS™ supplement increases blood flow, by oxygenation and antioxidant protection to the brain.
Tablets / Bottle: 112 
Directions:
Take four (4) tablets daily, preferably with food.
USANA Ginkgo-PS™ | USANA Supplement in USA for memory
Unique Ginkgo biloba formula as a USANA Supplement that helps prevent memory decline associated with aging.  
Formulated with the highest quality Ginkgo biloba extract

Phosphatidylserine or PS, is a unique ingredient that plays an important role specific to brain function.
USANA supplement difference:
Effective

Safe

Science-based

Pharmaceutical Quality
For centuries, many cultures have supplemented with Ginkgo biloba to promote mental acuity and memory function. USANA took the highest quality Ginkgo extract and paired it with a unique ingredient – phosphatidylserine – that has an important role specific to brain function. This advanced formula helps you to remember where you parked or to focus on that big project. USANA uses only standardized Ginkgo biloba extract. The high quality of USANA Ginkgo biloba extract combined with PS gives the supplement clear advantages over other products on the market as a supplement for memory.
Each tablet of USANA supplement contains:  
Medicinal Ingredients: 
25 mg Ginkgo biloba leaf extract 

125 mg Soy Lecithin 
Other Ingredients: 
Dextrates, Croscarmellose Sodium, Colloidal Silicon Dioxide, Ascorbyl Palmitate, Dextrin, Dextrose, Soy Lecithin, Sodium Citrate.
USANA supplements are laboratory tested, quality guaranteed. Meets USP specifications for potency, uniformity and disintegration, where applicable.
Keep out of reach of children. Consult your physician if you are pregnant, nursing, taking a prescription drug, have a medical condition, or for use beyond 8 months.
Do not use if you are taking health products that affect blood coagulation (e.g., blood thinners, clotting factor replacements, acetylsalicylic acid, ibuprofen, fish oils, vitamin E) as this may increase the risk of spontaneous bleeding.
There is a safety seal under the cap. Do not use if the safety seal is broken or missing. 
These statements have not been evaluated by the Food and Drug Administration. This product is not intended to diagnose, treat, cure, or prevent any disease.
USANA Vitamins and Supplements are made in USA.
USANA HEALTH SCIENCES, INC. SALT LAKE CITY, UTAH 84120
USANA Vitamins: Store below 25˚ C.