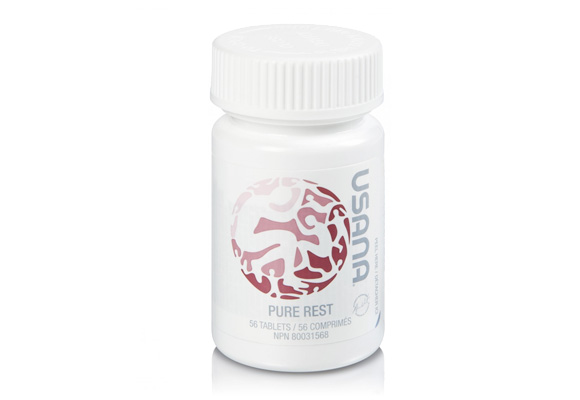 Save up to 10% ($16.95) on retail Price as a Preferred Customer on USANA Supplements for sleep
USANA Pure Rest supplement, fast acting, ultra-pure melatonin helps the body fall asleep without being a sleeping pill by supporting the natural melatonin production.
Tablets / Bottle: 56
Directions:
Take ½ to two (2) sub-lingual tablets daily, one hour before bedtime. For use beyond four (4) continuous weeks, consult your physician.
USANA Pure Rest

 | 

USANA Melatonin Supplement in USA
USANA Pure Rest is a fast-acting melatonin supplement that promotes the body's natural sleep and wake cycles.
Health Basics 
Orange-flavored dissoluble tablet designed to support better sleep
Sleep provides numerous health benefits, including defense against oxidative stress and maintenance of a healthy immune system
Contains no animal ingredients
USANA Pure Rest supplement in USA is:
Effective

Safe

Science-based

Pharmaceutical Quality
USANA Pure Rest supplement
Getting enough sleep is an important part of a healthy lifestyle. Normal sleep cycles help you feel more energized, promote healthy immune function, and support antioxidant defense. Pure Rest is USANA's fast-acting, ultra-pure melatonin supplement. Melatonin is a naturally occurring hormone that regulates sleep and wake cycles. USANA Pure Rest supplement without to be a sleeping pill is designed to dissolve quickly, and the ultra-pure formula is both safe and effective. Pure Rest does not contain animal ingredients and is not habit forming. Enjoy a healthy sleep with USANA Pure Rest supplement.
Key Ingredients for USANA Pure Rest supplement
USANA Pure Rest supplement is laboratory tested, quality guaranteed. Meets USP specifications for potency, uniformity and disintegration, where applicable.
Keep out of reach of children. Consult your physician if you are pregnant, nursing, taking a prescription drug, have a medical condition, or for use beyond 8 months.
Do not use if you are taking health products that affect blood coagulation (e.g., blood thinners, clotting factor replacements, acetylsalicylic acid, ibuprofen, fish oils, vitamin E) as this may increase the risk of spontaneous bleeding.
There is a safety seal under the cap. Do not use if the safety seal is broken or missing. 
These statements have not been evaluated by the Food and Drug Administration. This product is not intended to diagnose, treat, cure, or prevent any disease. 
USANA Vitamins and Supplements are made in USA.
USANA HEALTH SCIENCES, INC. SALT LAKE CITY, UTAH 84120
USANA Vitamins: Store below 25˚ C.