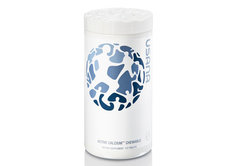 Save up to 10% ($28.95) on retail Price as a Preferred Customer
Active Calcium Chewable is a calcium supplement in the chewable form made by USANA to maintain healthy bones, cartilage, teeth, gums, to control neuro-muscular contractions, to relax the muscle and helps to sleep. 
Relieves acid indigestion, heartburn, and sour stomach.
Tablets / Bottle: 112
Directions: 
Adults 19 and over chew 2-4 tablets daily with meals. 
Children 12-18 chew 2-3 tablets daily with meals.
USANA Calcium Supplement – Active Calcium Chewable  
Health Basics
Features the benefits of USANA's Active Calcium Plus™ formula in a chewable form.

Helps in the maintenance of bones and teeth.

Helps to prevent bone resorption and osteoporosis.

Relieves acid indigestion, heartburn, sour stomach.
Did You Know?
USANA Calcium Supplement  in a chewable form can be used as an effective antacid that provides, rather than depletes, calcium.

Adequate levels of calcium are needed every day to ensure that the body's bone mineral density is maintained.
USANA Calcium Supplement in the chewable form is:
Effective

Safe

Science-based

Pharmaceutical Quality
Active Calcium Chewable – USANA Calcium Supplement:
The teenage years are a critical stage of development. USANA formulated Active Calcium Supplement in a chewable form to ensure that your teenagers are getting enough calcium in their diet. It's important for your body's structure and the integrity of your bones to absorb the right levels of calcium and magnesium, and vitamin D helps this process. With this chewable supplement, you and your teenagers can get the calcium and vitamin D that you need to keep your bones healthy and strong. And this convenient chewable is not just your average calcium supplement. Many adults use it as an effective antacid that provides your body with calcium, rather than depleting it like other antacids.
Each USANA Active Calcium Chewable supplement contains:
Medicinal Ingredients: 
400 mg Calcium (citrate and carbonate)

200 mg Magnesium (citrate and oxide)

200 IU Vitamin D3 (cholecalciferol)
Non-Medicinal Ingredients: Honey Powder, fructose, soy lecithin, xylitol, vegetable stearic acid, citric acid, Calcium Silicate, guar gum, natural flavours, malic acid, rice protein hydrolysate.
USANA Supplements are laboratory tested, quality guaranteed. Meets USP specifications for potency, uniformity, and disintegration, where applicable.
Keep out of reach of children. Consult your physician if you are pregnant, nursing, taking a prescription drug, or have a medical condition. Avoid using two (2) hours prior to or until four (4) hours after taking other medication. There is a safety seal under the cap. Do not use if the safety seal is broken or missing
USANA Vitamins and Supplements are made in the USA.
USANA HEALTH SCIENCES, INC. SALT LAKE CITY, UTAH 84120
USANA Vitamins: Store below 25˚ C.